From the press release:
"Songwriter Power Ranger was an acoustic concert series that started in spring 2009 and ran through the autumn of that same year.  It was a beautiful partnership between two Lincoln music-scene veterans (Cory Kibler and Ember Schrag) and Box Awesome/The Bourbon Theatre. It was named so, because these gatherings of local songwriters resembled the coming together of the Power Rangers to create one enormous, crime-fighting robot, only with songs and drinks instead of karate-chopping and explosions.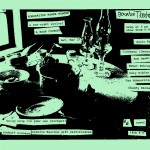 "The series brought in many beloved regional acts (Sarah Benck, John Walker, Brad Hoshaw, Midwest Dilemma, Dereck Higgins, et al) as well as a few nationally known artists (Ali Harter, Jake Bellows).  The shows were fun and lighthearted, and had a charming, earnest sense of music and community.  Also, there were crazy drinks from zany bartenders.
"On Saturday, March 27th at the Bourbon Theatre (1415 "O" Street), Songwriter Power Ranger will make its glorious return for one night only, and the cover is a mere $6.  There will also be a soup cook-off, and Bourbon gift-certificates will be awarded for those who place 1st, 2nd and 3rd: just bring a crockpot full of your soup, and let the crowd pick its favorites.  The soup cook-off begin at 5 pm, and the music begins at 6 pm and ends at 9 pm.  Consider this a Lincoln Music Event in line with the wildly successful "Under the Covers" event held at Duffy's back in January.
Performing are Cleemann (Denmark), Rob Hawkins (former Golden Age), Das Hoboerotica, Ember Schrag, Cory Kibler (The Sleepover), and Chanty Stovall.
"Thank you very much for your time, and please let Ember (ember.schrag@gmail.com) or me (cory.kibler@gmail.com) know if you have any questions.  We hope you're able to post the press release/spread the word, and we'd (of course) love to see a story or five written about the event.  We want to make it a huge success!
"Sincerely,
Cory Kibler"