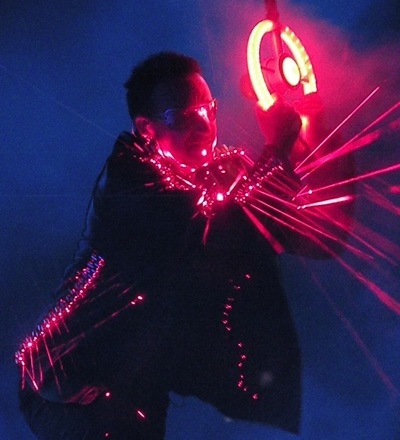 That was the question and loose theme of U2's show in Norman, OK last Sunday night.  J, T, CA and I made the pilgrimage down to catch the nearest stop the 360 Tour is making to KC.
There aren't really words.
If you've seen a DVD or video clips, you know what to expect; stadium-sized sound, the biggest lights and screens around, some simple-but-brilliant theatricality, several songs from the latest album coupled with a generous number of hits and classics.  Bono, Edge, Adam, and Larry delivered – and I was perfectly caught up in it all.
(If you haven't, check them out live or in playback on YouTube tomorrow night!)
The best thing about the show has been the way it's refreshed all of the music; we listened to "No Line on the Horizon" twice on the way home, and it was like hearing it for the first time, only deeper.  Amazingly, it was the same for me the next day with "The Joshua Tree."
I left memorial stadium singing quietly to myself and my friends, skipping among "Moment of Surrender," "Breathe," and "Magnificent."  All new tunes.
Scattered thoughts:
They played "Mysterious Ways!"  It hasn't been on many setlists from this tour.  It's my ultimate turbonitrothunder favorite song, and changed my life when I was 9 or so; I'd been a country/R&B listener up to that point, but Edge's weirdo guitar sound introduced me to the rock, and I haven't been the same since.
It was fun to hear Edge start "In a Little While" in the wrong key for about a bar, then stop and re-start.  Even from our seats in the lower rows, I could see the knowing smile that passed between him and Bono.
Wish the band would have released "I'll Go Crazy If I Don't Go Crazy Tonight" as the first single – the album could be in a very different place, I think, if they'd done that – and it's inexplicable to me why they played a live remix that sounds like a "Zooropa" b-side.  (On the other hand, the riff to the remix has been in and out of my head more than any other specific tune all week long.)
Loved the staging, lighting, and costuming for "Ultraviolet" (pictured above).
CA got some great photos I'm anxious to see.
Massive kudos to J for watching the tour announcements, and hovering on the interwebs the day tickets went on sale.
Setlist:
Breathe
Get on Your Boots
Magnificent
Mysterious Ways
Beautiful Day
I Still Haven't Found What I'm Looking For
Stuck In A Moment
No Line on the Horizon
Elevation
In A Little While
Unknown Caller
Until The End of the World
Unforgettable Fire
City of Blinding Lights
Vertigo
I'll Go Crazy – Remix
Sunday Bloody Sunday
MLK
Walk On
One
Where The Streets Have No Name
Ultraviolet
With or Without You
Moment of Surrender