I went to Chicago last weekend to see Bear.  After that, and getting deep-dish pizza, the next thing I wanted to do was check out some record stores and see if I could find things I haven't been able to in KC.
This list was a help, Bear picked out a couple within walking distance of her place, and off we went.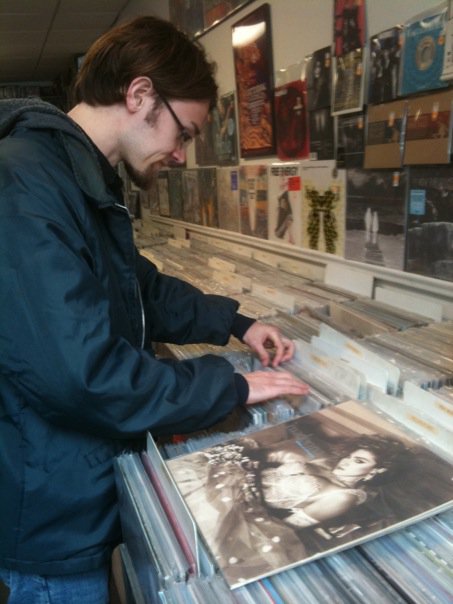 Groovin High is a cool little shop with handwritten receipts and an owner/operator who clearly knows the scene and his jams.  He had more new vinyl than used, which surprised me, but I found some great stuff, starting with the Madonna shown above.  When I went to pay, owner-guy complimented my eclectic choices.  It seemed to be a genuine compliment from a record store guy; I wondered if hell had frozen over.
The Pretty Things, "S. F. Sorrow" (2008 Sundazed reissue) – Drew's gotten me into The Pretty Things, and this is one of their classics.  It's not original, but it will sound great and be fun to have.
Madonna, "Like a Virgin" – I don't have any Madonna, and this seemed like a place to start.
Nilsson, "Aerial Pandemonium Ballet" – Groovin High actually had four Nilsson records I didn't, but I wasn't prepared to shell out twelve bucks apiece for four records.  Bear used her iPhone (handy in the city!) to pull up Allmusic and we figured out which one might be best.  This is selected tracks from "Pandemonium Shadow Show" and "Aerial Ballet," some with new mixes and/or new vocal tracks
.
From there we continued down to Reckless on Broadway, one of three Reckless Records stores in town.  It was giant, about 50/50 new/used, and thankfully had major artists separated out to make it easier to browse.  I started slow there, but eventually found finds:
Elvis Costello, "Trust" and "Imperial Bedroom" – All my Costello was on CD until now – mixing media for an artist isn't my favorite thing to do – but I got good deals on these albums.
The Pretty Things, "Silk Torpedo" – At this point I have more '70s Pretty Things than '60s, but I'm still excited to hear this.
U2, "The Joshua Tree" – It was kind of high, but it's in beautiful shape, with the original poster, and it completes my U2 vinyl up to "Achtung Baby;" worth it.
Bruce Springsteen, "Greetings from Asbury Park NJ" and "Born to Run" – These aren't in great shape, but I think they'll play, and they mostly finish out my Bruce.  At $2, I couldn't pass them up.
.
I was thoroughly satisfied and thought I was done at this point, but a couple days later on my trip home, I stopped in Iowa City to see Scott and he took me to Record Collector.
Heart, "Little Queen" – I'd been looking for this ever since CA sang "Barracuda" at karaoke, including in Chicago, but finally found it here.
Black Sabbath, "Paranoid" – In beautiful condition.
The Beatles, "Abbey Road" – My year of late-onset Beatlemania continues.
Blondie, "Eat To The Beat" – Hey, it was a buck.
Erroll Garner, "Gems" – I never pass up a cheap Garner record.  If you've heard him, you probably dig why.