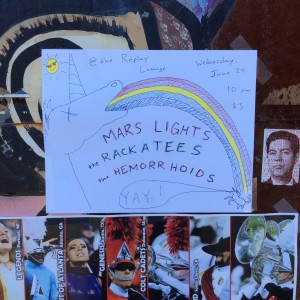 The blog's been full of show announcements (11 so far in the first half of 2015, with two more booked!) but I've been doing other things as well:
Finishing the melodies and lyrics to Valiance, the next Sally Ride record.  I aim to start recording guitars next weekend and still get it out before the end of the year
Sorting some of the remaining 55+ "shaker demos" into a new howie&scott record (!!) and Fight Songs, the SR album after Valiance.  Fight Songs was originally intended as an EP, but I have more than enough material for a full-length. Early acoustic versions of "Cooky" and "Lost" are available on Furious Instance
Making new music with a new tool, Poly, a polyrhythmic sampler for iPad/iPhone.  A big chunk of making this useful has been learning to make my own samples
Completing a review of all of my unfinished songwriting notes (15 years' worth), looking for lost gems.  This was a multi-day project, and I pulled 10-12 things out to demo and get into the pipeline.  Getting through this was good not only to find some cool material I'd forgotten about, but to not have to wonder any more if there were good songs hiding in the file.  For reference, there are probably 200 song ideas, riffs, chord progressions, and other bits I'm setting aside, probably not to look at again.  Three hundred or more if you count scraps of lyrics.  (I'll keep them but, having been though once, there's probably nothing to glean from another review.)

Don't hold me to any of this; just wanted to show that one of these ideas has been in the file since 2005!

Building a workbench and starting to learn to solder.  I have a long list of soldering projects starting with a BYOC Large Beaver (intended to eventually replace my Bass Big Muff Pi), fixing my turntable, re-wiring the vintage Sunn 2×12 I scooped a few months ago for 16 ohm impedance (my AD30's primary output) and, eventually, semi-original pedal designs starting with a no-volume-loss feedback looper for Cory's delay.

It's collapsable; the bottom brace and leg sets come off so it can be stored in a closet

Re-working my pedal board, courtesy of a Boss LS-2 off of craigslist.  I'm using it in A+B / Bypass mode to essentially add a clean blend to some of my more outrageous fuzzes, but without a drop in clean volume (both loops set at unity gain).  Really great into a semi-dirty amp.

In transition; the Apocalypse and partly broken Arion SMM-1 are in a loop of the LS-2's (that Arion is a re-house project)
Moving to Lawrence seems to have sparked some fresh creative energy through some combination of the (usually easy) commute, the local vibe, the sense of retreat each day and weekend, and our physical space.