This afternoon I'll be building the first Giambattista Tremolo in a one-off custom enclosure courtesy of Seth M Jones.  I did the LED and bypass wiring yesterday to give myself a head start.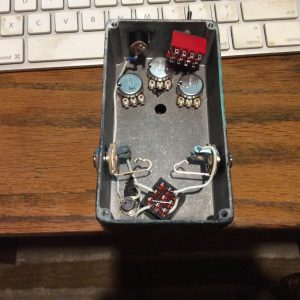 The Giambattista is based on the old Jordan Vico Vibe (and a layout by Nicholas Kula).  I've added a JFET boost and volume control on the output, which others have done with this circuit.  I've also moved the bias (which affects the pulse width) control to the outside of the enclosure, and added a fast/slow rate range toggle, which I haven't seen done before.
The Vico Vibe is a great, vintage-sounding tremolo, but the knock on it is that the rate range is fairly narrow (and quite fast, with stock components).  The Giambattista, with its fast/slow ranges, will go from faux-ring modulation fast to obscenely slow.

More videos on the way once it's done.