I finished testing and finally boxed up the Larsen Expressive Feedback Loop this morning.  It's good to have it done.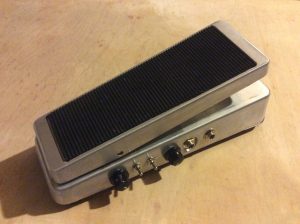 It's more of a prototype than a finished product; while the circuit itself is really solid and I'm proud of its design, learning to work with wah enclosures was a giant pain and I had to jerry-rig several things with the hardware to get it to work.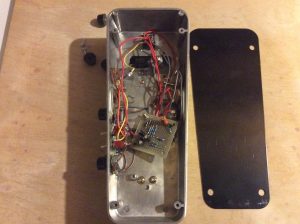 Bit of a mess inside, but it's loud and weird and fun.
The feedback potentiometer (what the foot treadle controls) is pretty sensitive; most of the play is toward the heel-down position of the treadle. If I were doing it again, I'd experiment with making a super-anti-log taper pot out of a linear pot and a resistor. Or, maybe I'll upgrade this one with that in the future.
If I ever get around to making one of the doom records I've been writing, this thing will be all. over. it!