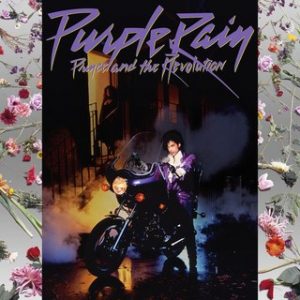 After absorbing Prince and the Revolution's Purple Rain (Deluxe Expanded Edition) for a few weeks, I've had fun this week re-organizing the listening experience for myself.
The package has four discs:
The original Purple Rain, remastered in 2015
From The Vault & Previously Unreleased, which is entirely non-album tracks except for the "Hallway Speech" edit of "Computer Blue"
Single Edits & B-Sides, just like it sounds
Live at the Carrier Dome DVD
I prefer listening to my own vinyl rip of Purple Rain to the remaster, so I've combined all of the non-album material (from both From The Vault… and …B-Sides) into one playlist, and made an "Alternate edits" playlist of the original material using the longest alternate edits available (so dance mixes and the "Hallway Speech" "Computer Blue," and 7″ edits if longer edits aren't included).  Here's the result:
From The Vault, Previously Unreleased, & B-Sides:
17 Days (B-Side Edit)
Erotic City ("Make Love Not War Erotic City Come Alive")
Love and Sex
Electric Intercourse (Studio Version)
The Dance Electric
Our Destiny / Roadhouse Garden
God (7″ B-Side Edit)
God (Love Theme from Purple Rain)
Wonderful Ass
Possessed
Velvet Kitty Cat
Katrina's Paper Dolls
Another Lonely Christmas (Extended Version)
We Can F**k
Father's Song
Purple Rain (alternate edits):
Let's Go Crazy (Special Dance Mix)
Take Me With U (7″ Single Edit)
The Beautiful Ones (2015 Paisley Park Remaster)
Computer Blue ("Hallway Speech" Version)
Darling Nikki (2015 Paisley Park Remaster)
When Doves Cry (7″ Single Edit)
I Would Die 4 U (Extended Version)
Baby I'm A Star (7″ B-Side Edit)
Purple Rain (2015 Paisley Park Remaster)
(The 7″ edit of "Purple Rain" is just disappointing to listen to.  Not through any fault of Prince's; it's just not a song that can be edited and retain anything resembling its musical effect.)
The result is a very good new Prince double-LP (From The Vault…) that sits nicely between 1999 and Sign O' The Times in a universe where Purple Rain never existed.  It's not quite as strong as those records (both classics) but it's close, and that's saying a lot.  It's raw, it's loose, it's raunchy, and it's a lot of fun.  There are a couple clunkers in the second half (I'd say the same of Sign; really every Prince record has them, except for Purple Rain and 1999) but that's part of the deal with Prince's genius.  Getting a new peak-era Prince double LP in 2017 is amazing.
Hearing the alternate edits in a Purple Rain tracklist I know incredibly well is a good way to trick my ears into noticing new details in the songs.  Worthwhile listening on its own, it also enhances repeat listens of the original album, thoroughly accomplishing the point of releasing a deluxe edition like this.
Prince and the Revolution, Purple Rain (Deluxe Expanded Edition) – 5/5, would go crazy again