A couple months ago – September, after the h&s release and shows? – I impulse-bought a Korg Monotribe, which I'd always thought looked fun. The Monotribe is an analog synth, drum machine, and sequencer. It sounds kind of like The Life Aquatic with Steve Zissou soundtrack (the Mothersbaugh pieces) in a box, but weirder and angrier if you want it to be.
It arrived, and little jams immediately started pouring out. Designer Tatsuya Takahashi and the Korg team did incredible work on this project, incorporating a wide variety of cool sounds into a simple interface. The 1-shot LFO, per-part Active Step sequencer, Flux mode for the synth sequencer, and sequenceable VCO gate time, drum roll, and VCO volume are particularly brilliant.
By necessity it has limitations – the drum sounds are fixed, the VCO can't be turned off to play the filter or external input, the VCA is clicky, and all sounds get mixed down to mono – but the Monotribe's PCB has some test points that open up possibilities for addressing most of these limits.
I read a bunch of message board threads, made a list, tested things, made a hardware plan, drilled the case, fixed some issues with the hardware plan, soldered, re-soldered, and did a couple more days' worth of troubleshooting than I expected, but here's what I've come up with.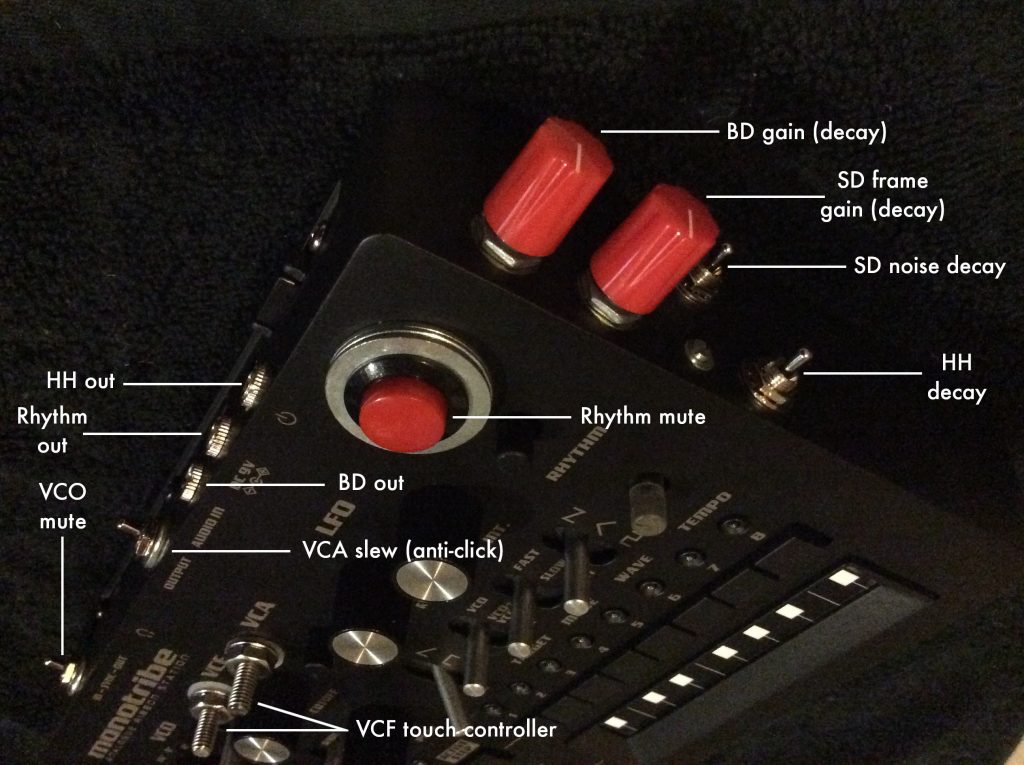 Several of the mods came directly from the massive thread on Muffwiggler, including:
VCO mute (allows for playing the noise, resonant filter, and/or external audio input on their own without the VCO)
VCA slew (the Monotribe's VCA is notoriously clicky. This is an on-off-on toggle with two levels of click suppression. Internally, I also replaced the one-turn VCA biasing trimpot with a 10-turn trimmer and re-biased the VCA)
Bass drum / Rhythm mix / Hi-hat direct outs (the Rhythm mix out becomes a snare out when all three are used)
BD and SD gain controls (higher gain = longer decay)
SD noise and HH decay toggles
Stuff I came up with on my own:
VCF touch controller (lets you play the filter with your fingers. Pressure-sensitive! Can do some fun almost-formant sounds)
Giant arcade button to mute the drums while held down
Put the SD noise and HH decay capacitors on a IC socket in the battery compartment so they can be any value, instead of hard-wiring in two decay lengths. Using small value resistors instead of caps can turn the SD into a tom sound and mute the HH
This should be great for little jams around the house, taking on the road, and as the heart of a pretty versatile mini rig with a few guitar pedals or other small boxes for collaborations or performances.