On Friday we will release Night Mode's Your Pain Matters in celebration of Bandcamp's fee waiver. We hope you'll add it to your list of purchases on Friday!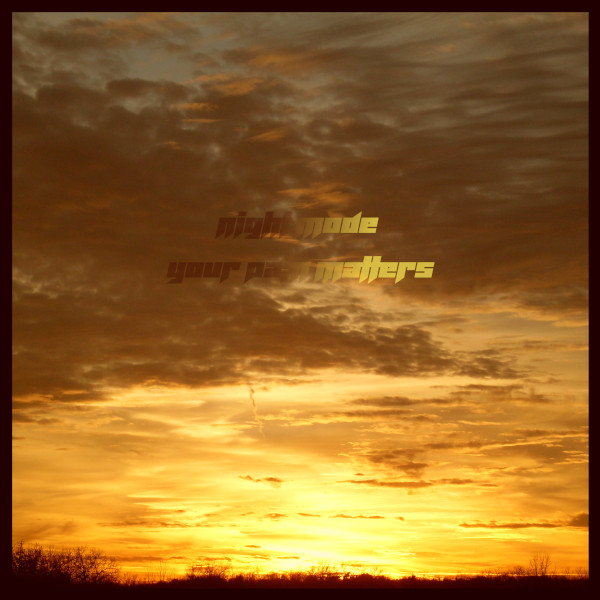 Your Pain Matters is my follow-up to Dirac Spike. It's a solo Night Mode effort recorded from March to July 2017, with the setup* used on the first Night Mode trio jams** and shows*** plus some overdubs****.
* Alesis Micron, Korg Volca Bass, Poly app for iPad, effects pedals
** What became Load Exceedance and Load Transcendance
*** April 2017
**** Rhodes, guitar, etc.
Musically and emotionally, Your Pain Matters is really the beginning of my story with making instrumental synth music. I absolutely stand by Dirac Spike but it was only a first experiment, and all of its pieces are based on the Poly app. (The app is fun, but I have not used it since Dirac Spike.)
For Your Pain Matters I began writing and performing parts for synthesizer with no sampling or sequencing; just me, at the keys & knobs, coming up with sounds and playing/recording live. This is largely what I continued to do for several more albums yet to be released, and am still doing. I did a bunch of it last weekend.
For the few who might care to trace Night Mode's sonic development, here's an attempt to sort out who was doing what, when. Of course reality was and is messier than can be fit into these boxes. We've had this idea of a Drew solo > Howie solo > Some type of collaboration (duo or trio) release cycle; Capsule was a departure from that, and it seems likely we'll continue to deviate from that idea. It was a cool plan, but it doesn't line up well with the pace at which we finish things individually or together.
Drew
Howie
Damon
(Collaboration)
Feb – Dec '15
OTHER
Jan – Aug '16
Dirac Spike
Feb '17
Duo (H/Damon) –
(Untitled/Unreleased)
Mar '17
Trio –
Load Exceedance
Load Transcendance
Mar – Jul '17
Your Pain Matters
?? – Jul '18
Gentleman Scientist
(there's a Drew/Damon
noise / Marshall reamp /
drums project in
here somewhere
Jan – Apr '18
Working Bears Or Barely Working
Jan '18 – Mar '19
Only Mostly Dead
Come In Alone / Stuck On You (Sep '18)
Jun – Nov '19
Not One Person Left Out
Jan-Feb '20
Duo (Drew/H) –
Capsule
Mar '20
Duo (Drew/H) –
(Merritt/Unreleased)
In progress:
Seen Heard and Known,
Monotribe record(s) (Oct '19 – ??),
AX60 record (Nov '19 – ??),
Medusa record (Apr '20 – ??),
Noise record (Mar '20)