Cory went to New York a while ago, and this happened: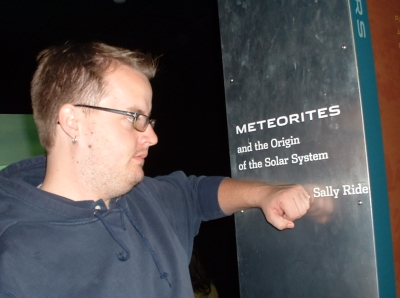 Who knew?
His record is coming right along; I think we hope to have it out and up in a couple of weeks.  It has the magic.
5*Joel is coming over in a bit here to work on a killer new demo-jam we wrote at practice Thursday night.  ALSO: Duane, our engineer, found the stem-mixes from our Sleepless Nights EP, so Joel and I anticipate re-recording the guitar and key parts only very soon.  This project, with the new Red EP, would build toward a full-length with one more 2-3 song recording session.
IF YOU ARE NEAR LINCOLN, NEBRASKA TONIGHT, THE KILLIGANS ARE RELEASING THEIR NEW CD ONE STEP AHEAD OF HELL AND ROBOT, CREEP CLOSER! OPENS AT KNICKERBOCKERS.  Check out tracks at www.thekilligans.com.  Early (6PM) and late (9PM) shows: Robot! is at the late show.  -h