A couple months ago Drew and I went in together on a late 1970s Soundtracs FME mixing console, based on Duane's recommendation.  We scored a good deal on eBay, carefully dragged the 225-pound unit (console + road case) down to the basement, and this past Monday I got to work with it for the first time.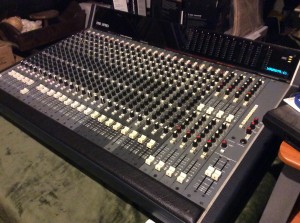 First I tested each channel with one signal, listening and compensating for any differences among them. These circuits are 35+ years old, and have drifted a bit; to get each channel to sound the same I used preamp gain settings as much as 11 dB apart, EQ adjustments of -1.5 dB to +3 dB, and levels as much 4.5 dB apart. That took all morning, and while we'll tweak it as we continue to use the board, those settings will be a foundation we can start mixes from in the future.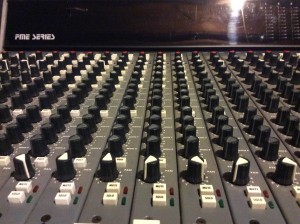 Then I actually mixed a five-song project for upcoming release on MFR. I'd already gotten the mixes to a state I was happy with in ProTools, so I was just routing those tracks through the console and back into ProTools in stereo, making fine adjustments.
Mixing on the Soundtracs was brilliant; revelatory, really.  Even at levels below clipping, the preamps subtly compress and add harmonics in a beautiful way.  The EQ was the best part, though.  In ProTools, I'll spend weeks on a mix agonizing over tiny changes in EQ, trying to get things to sound their best.  On the console it's simple and natural to turn up the level, sweep the frequency for the range I want to affect, and bring the level back down until I've achieved what I want to hear.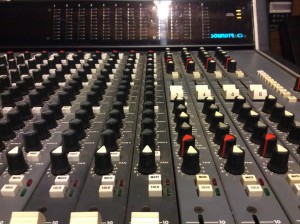 It wasn't cheap, but even so this piece of gear was well worth it for us, and offers good bang-for-buck in that it will substantially improve every mix we do (think: new Mars Lights LP, new Dark Satelliets LP, Cory's solo project, and more) from now on.  And it's fun to use.
As a bonus, here are some pics of Drew pole-dancing in Wichita Friday night, then deciding to sit on the floor and enjoy the music, at the Mars Lights / Vehicles / Admirals show.