My next pedal design, the Mohs Fuzz, is finished and ready to draw up, order parts, and build.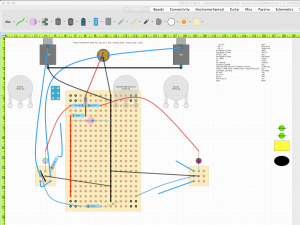 For the Mohs I started with a silicon Fuzz Face, not knowing if it would lead to a finished idea, and experimented broadly from there.  The key to its range of fuzz tones is the "Hardness" control, which affects the softness-to-hardness of the signal clipping and gives the pedal its name (for Friedrich Mohs and his scale of mineral hardness).
Update: Here's a short clip of Drew playing the breadboarded Mohs: https://www.facebook.com/darksatellites/videos/1302218346514629
I plan on building at least three, but if you're curious and/or interested in obtaining one, email me or leave a comment with your email address and I'll get in touch about it.  I may do a quick video before ordering parts for the run to help determine interest.